As we approach the end of 2019 and retrieve our EOY results for the year, we recognize students' needs for a final booster before the year finishes. Some did not do well for their EOY while others find their average results shaky. Our advice is to seize the holidays and get up to mark before demands of the new year piles on.
At The Learners Council, we will be having our signature Math and Physics Year End Revision program before the festive season. Details are as shown in the table below. There are limited vacancies available in our small class size, so make sure you enquire early to avoid being waitlisted. We seek your understanding in this. Don't tarry any longer, start your revision now!
2019 Year End Revision Schedule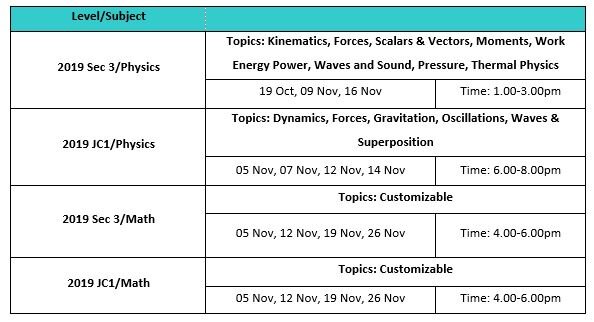 If you have a need but can't find a suitable time slot here, fret not! Send us an email or WhatsApp and we will see how we can help you.

To register for the September Intensive Revision, kindly
1. email us (admin@thelearnerscouncil.com)
2. fill up the enrollment form
3. call/whatsapp us at (+65) 82924288