Welcome to the New Year! TLC students start off the year ahead of their peers as we are dedicated to ensure they have a solid foundation in the subjects they tuition with us. Our students are always well geared for the demands of school and have a substantial head start over their peers. You can also be ahead by joining our weekly classes - we make Physics and Math easy to grasp and effortless to score. We pride ourselves in our reputably small class size that has won endless praise from parents and students alike - for it gives our students customized attention at an extremely affordable rate while having the best quality tutors in Singapore.
Below is the schedule for our weekly classes. If you can't find a timing that is suitable for you, feel free to give us a buzz/Whatsapp and we will be happy to help you schedule a suitable class. You can also check out our exclusive one-to-one class page for more exclusive attention.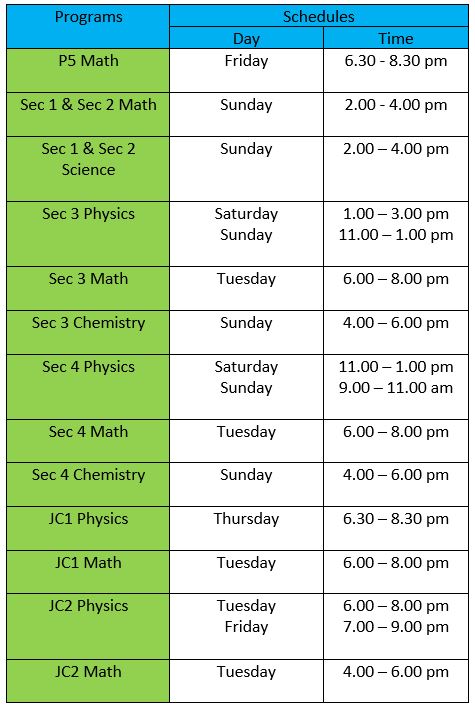 *Enquire for alternative time slots if you can't find a suitable one here
To register for 2019 weekly classes, kindly
1. email us (admin@thelearnerscouncil.com)
2. fill up the enrollment form
3. call/whatsapp us at (+65) 82924288
TLC Signature Crash Course for 2019
Our signature 2019 September Crash Courses are not yet open for registration. However if you would like to book your place with us, please call us at 8292 4288 early for more information.